Every month we pick a "Puppy of the month" and the winner receives a year's free DOGS NSW membership, which includes 12 monthly DOGS NSW magazines, a pet goody bag donated by Love'em and Oakwood puppy products.
This month's winner
Congratulations to 'Caleb' our March 2019 puppy winner!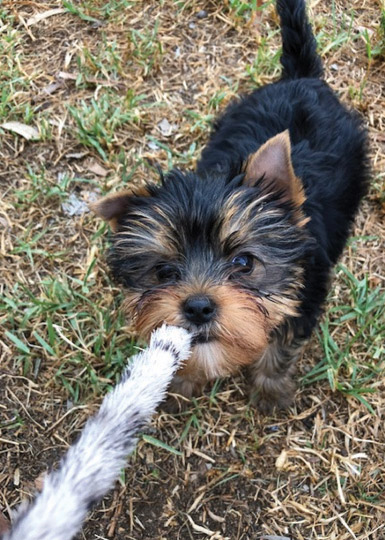 Puppy's owner:
Joanne
Breed:
Yorkshire Terrier
My puppy's favourite sleeping place:
Under the doona, cuddled up to my shoulder.
My puppy's favourite trick is:
Moving his own bed around the room.
My puppy is the best because:
He's a big personality in such a tiny body. He loves everyone he meets and everything is fun!
How to enter
Simply email us a picture of your puppy along with answers to the questions below (please also include a contact number). Cutest entry wins!
Name of your puppy
Breed
Your puppy's favourite sleeping place
Your puppy's favourite trick, such as sit, paw wave etc
Why your puppy is the best - in no more than 10 words
Puppy of the Month sponsors